Has the price of Para rubber passed its trough?
Author: Kaittisak Kumse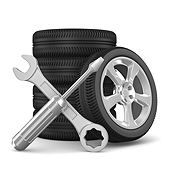 A decline in crude oil prices and slowdown in both China and the global economy has resulted in an almost 4-year low of Para rubber price. However, EIC believes that the Para rubber price has already passed its lowest point and should slowly recover, following the rising trend of oil prices and gradual global economic recovery.
Para rubber is an industrial crop which is significant to the Thai economy in terms of GDP, employment, and exports. It makes up about 3.3% of Thailand's GDP, 15% of total employment, and 5.9% of total export value. During 2012, Para rubber export value registered at 8,745 million USD, the highest among agricultural commodities and the fifth largest among all exporting items.
During July 2013, the price of Para rubber dropped to its 4-year low. Standard Thai Rubber (STR 20) export price in July fell to 69 Baht per kilogram, a 4-year low record (STR export accounts for 39% of the total Para rubber export from Thailand). This declining of export price caused the cup-lump price (raw material for producing STR) which farmers receive to decline by 21%, from 81 Baht per kilogram in January to 64 Baht per kilogram in July (Figure 1).
The reduction in Para rubber price has resulted from global crude oil price slump and slowdown in both China and the global economy. China, as the world's largest consumer and importer of Para rubber, plays an influential role on price movement. In 2012, China imported 2.5 million tons of Para rubber, of which roughly half of total imports or around 1.2 million tons was from Thailand. During the same period, China consumed a total of 3.9 million tons of Para rubber, 83% of which goes to the tire industry. Hence, the demand from the Chinese tire industry is a key driver worth monitoring. Additionally, related variables that effect Para rubber prices include crude oil price, Chinese economy, and the global economy (as more than 50% of Chinese tire production is for re-exporting to the world). Crude oil price is particularly important as it reflects production costs of synthetic rubber. Thus, the reduction in crude oil price, such as of the 5% Brent during the first half of 2013 (Figure 2), lowers synthetic rubber costs which in turn, attracts higher demand as it can be used as substitute product for natural rubber or Para rubber.
On top of crude oil price declines, slowdowns in China's economic growth during the first half of 2013 (as evident from two consecutive slow growth quarters: 7.7% in the first quarter and 7.5% in the second) in addition to low growth in the US, the Euro zone, and the Japanese economy, further depress China's demand for Para rubber, especially by the tire industry. This caused the Para rubber prices to decline as well. Furthermore, another factor that lowered rubber prices was China's huge Para rubber stock. During July, China's Para rubber stock was 180,000 tons, a 600% YOY increase (Figure 3).
EIC views that Thailand's Para rubber price has already passed its lowest point and should start to gradually pick up following the recovery of Chinese demand and rising trend of crude oil prices.
One supporting indicator for improving Para rubber demand is China's HSBC PMI index which increased from 47.7 in July to 50.1 in August. At the same time, economic figures in the US, Japan, and the Eurozone economy also show a clearer sign of improvement (Figure 4). Moreover, global crude oil prices are likely to rise further due to unrest in the Middle East region, the world's major oil producing region, and higher demand from recovering economies, which we already witnessed a 7.8% increase in oil price from July. The aforementioned factors should altogether help support Para rubber prices, which is partly evident from the 14% price increase from July, causing the current STR price to rise to about 79 Baht per kilogram. Meanwhile, the cup-lump price that farmers receive has also increased to 71 Baht per kilogram; a 20% increase from July.
However, EIC believes that Thailand's Para rubber export price cannot increase to a rate that will push domestic rubber price to 120 baht per kilogram as demanded. EIC views that Thailand's STR export price should increase to 105-110 Baht per kilogram during the 2013 year-end and hence, push cup-lump prices up to around 97-102 Baht per kilogram (farmers will receive a higher price due to the cancellation of Cess payments). The main reason EIC believes that Para rubber prices will not be able to increase to 120 Baht per kilogram is because of abundant supply from higher production in 2013. This is because in 2007, Thailand's rubber cultivation area in the Northeastern and Northern region expanded significantly and its rubber can be started tapping this year. In addition, Indonesia and Malaysia's rubber production should increase as well. Data from the International Rubber Study Group (IRSG) also points to the same direction and estimated that in 2013, there will be a Para rubber surplus of 300,000 tons. However, if crude oil prices continue to decline and the global economic is not gradually recovered as expected, Para rubber prices might not increase to the level predicted.
Figure 1: Export price and farm gate price of Para rubber consecutively decreased during Jan-Jul 2013.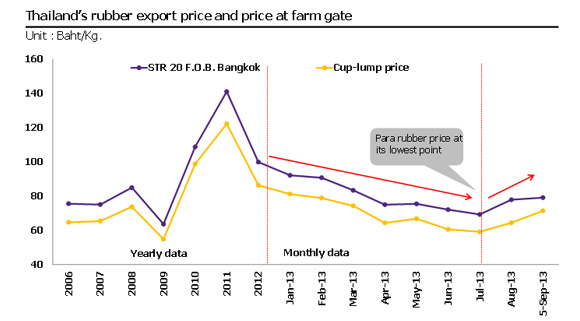 Source: EIC analysis based on data from Rubber Research Institute of Thailand
Figure 2: Para rubber price has declined in line with crude oil price movement.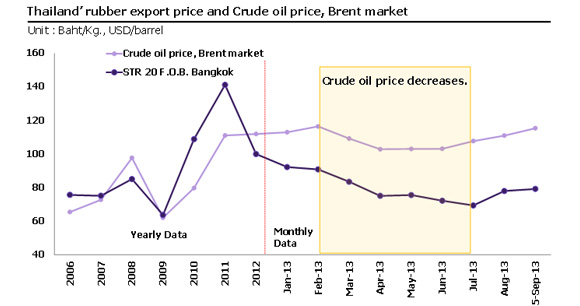 Source: EIC analysis based on data from Bloomberg
Figure 3: Para rubber stock in China has increased continuously during the first 7 months of this year.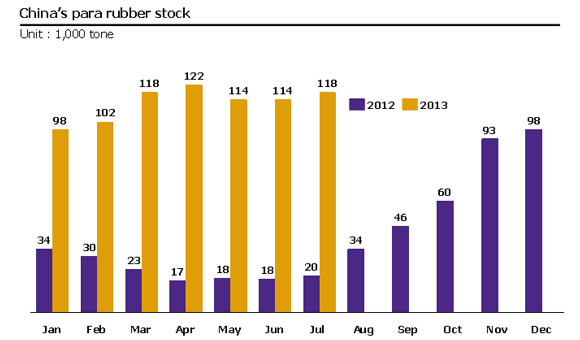 Source: EIC analysis based on data from International Rubber Study Group (IRSG)
Figure 4: The world economy shows signs of recovery.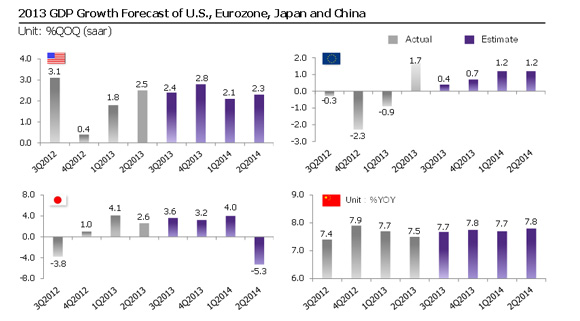 Source: Foreign research house (Goldman Sachs, J.P. Morgan, Deutsche Bank, Bank of America)
Higher rubber price will increase the revenue Para rubber farmers receive and help stimulating domestic consumption. The decline in Para rubber price reduces the revenue Para rubber farmers receive which in turn, reduces the consumption of roughly 6 million Para rubber farmers. However, if rubber price increases, the consumption from the group of Para rubber farmers will also increase and aid Thailand's economic growth.

The private sector should move up the value-chain by focusing more on developing a more sophisticated and integrated rubber processing factory in order to minimize risks from the more volatile upstream Para rubber price. Currently, 90% of Thailand's Para rubber exports are simple, upstream processed products which are subject to high price volatility. The continuous Para rubber price reduction during the past 7 months caused Thailand to lose about 30 billion Baht of export revenue. On the other hand, a more advanced Para rubber products such as automotive tires and rubber gloves has lower price volatility, evident from only a 5% price reduction of Thai automotive tire export products during the past 7 months as opposed to a 21% price reduction of simple processed Para rubber products. Therefore, the Thai government and private sector should cooperate and promote the development of a more complex and integrated domestic Para rubber processing factory and export these products instead of simple processed ones. This will help add more value to the Para rubber products and reduce risks from price volatility.