Tourism and consumer behavior for hotels is about to change
Author: Vithan Charoenphon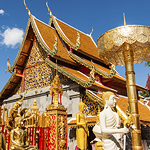 The Thai tourism industry should be less seasonal now that visitors from China have become our largest market, since they tend to travel on a year round basis. The large numbers of Chinese visitors should increasingly benefit mid-range hotels because Chinese travelers are more experienced and demand a higher quality holiday. Hotels and resorts catering to Chinese tourists should therefore consider adapting their facilities to better cater to Chinese tastes.

In 2012, outbound Chinese travelers totaled 83.2 million, an 18% increase from the year before, and the rate is forecast to increase by another 15% in 2013 to approximately 94 million travelers. Some 90% of outbound Chinese travelers travel within Asia, and in Thailand the number of Chinese travelers almost doubled in the first quarter of 2013 when compared to 2012 - the year in which China trumped Malaysia as the largest supplier of tourists to Thailand. This shift towards Asian travelers increases their importance relative to European and American visitors, who formerly comprised the bulk of Thailand's tourists. The shift to Chinese dominance will see even more tourists and a trend toward non-seasonal behavior. Hotel and tourism related businesses should benefit from the shift in terms of higher revenues, especially in the second and third quarters, which were previously considered the low season for Thailand tourism.

Chinese visitors devote only 15% of their total traveling expenses to accommodations, preferring to spend the savings on purchasing brand name products. In addition, the proportion of Chinese visitors spending more than 25,000 baht per trip has decreased significantly, implying that lower-income tourists are also traveling. This mainly benefits economy to middle level hotels. Chinese visitors in Thailand on average spend 5,000 baht per person per day, which means that their average accommodation expenditure will only be approximately 750 baht per night. By way of comparison, westerners spend roughly 30% of all traveling expenses for accommodations. More importantly, a famous online hotel booking website revealed that Chinese travelers do not give much importance to accommodations. They spend approximately 172 USD per night on average for accommodations, while Japanese and Australian spend 190 and 180 per night respectively. In addition, a survey by the China Tourism Academy confirmed that most Chinese visitors do not prefer to stay in luxurious hotels so that they can spend more on brand name products, hence preferring economy hotels. In 2012, Chinese outbound tourists spent 34% of all expenses on shopping and 22% on traveling cost.

However, the Chinese are traveling more frequently causing them to demand for a better traveling experience than for quick tours, in which the rising demand for richer experience will increasingly benefit mid-range hotels. The proportion of first time Chinese visitors decreased from 64% in 2011 to 59% in 2012, a fact reflected by the Annual Report of China Outbound Tourism Development 2013, which found that Chinese visitors have more knowledge of the destinations they are traveling to and are thus beginning to demand a higher quality travel experience. Travel agencies are starting to see this change in a higher proportion of visitors demanding tour packages providing richer experiences. In 2008 those types of tours accounted for only 18% of tours, but in 2012 their share increased to 38%, resulting in a reduction in quick tours with tight schedules leaving little time for personal activities. There has also been a shift in demand from economy hotels towards mid-range hotels. The main destinations in Thailand for Chinese tourists remain the key tourism cities of Bangkok, Phuket, Pattaya, and Chiang Mai.

Hotel facilities should change to attract this new demographic. The facilities Chinese visitors prefer reflect their culture and a preference for time efficiency. A demand for tea and coffee makers is one way in which cultural differences are reflected. Interestingly, Chinese tourists are not as interested in other equipment, including televisions. The need for time efficiency is also reflected by a survey of bathroom facilities, which showed that the Chinese prefer dual sinks and overhead showers in order to reduce bathroom waiting times. Importantly, even if Chinese visitors prefer facilities that fit with their cultural lifestyles, they do not wish to stay in Chinese-themed hotels since they want to experience something different from the hotels they can visit in China.

Figure 1: A significant increase in Chinese visitors should enable tourism-related businesses to gain more revenue in the second and third quarters, which were once the low season in Thailand.


Source: EIC analysis based on data from Department of tourism

Figure 2: Outbound Chinese travelers place little importance on accommodations, as evident from spending only 15% of their travel budget on lodging. In addition, Chinese visitors seek for in-room tea and coffee making facilities.

Source: EIC analysis based on data from China Tourism Academy และ Cornell Hospitality Report

Average hotel room rates will tend to increase throughout the year, with hotels that can attract Chinese visitors benefiting from higher revenues. Before the trend change, low season hotel room rates decreased drastically, but the increased number of Chinese tourists throughout the year should bolster room rates in the second and third quarters, increasing average hotel room rates.
Hotels should be upgraded, especially in terms of quality, in order for economy hotels to attract Chinese visitors demanding a richer experience. In addition to cleanliness, upgrades should meet the cultural and time efficiency requirements of Chinese tourists.