The Middle East – a thriving market with great opportunities for the food and beverage industry
Author: Chotika Chummee and Deesamer Yimprasit



Highlights

The food and beverage market in the Middle East is becoming increasingly attractive to investors, supported by the region's high GDP per capita, expanding labor force, and low food production capacity. EIC views that the healthy food and beverage segment and premium food products have great potential to grow significantly. Thai entrepreneurs seeking opportunities to expand their markets may begin with the UAE as a good starting point to penetrate the Middle East. Finding the right local partners and right product positioning are also key factors in order to success in this region.


The food and beverage market in the Middle East is of particular interest, driven by population's wealth, as can be reflected from relatively high GDP per capita, and large population of adolescents entering the labor force. The average GDP per capita of the six member states of the Gulf Cooperation Council (GCC) is 44,049 USD, which is roughly 4.5 times higher than Thailand's. This is because GCC core revenues are from oil and natural gas exports. In addition, food expenditure per capita of the regional population is also 2.4 times higher than in Thailand (see figure 1), which indicates great opportunities and potential for food and beverage market growth. Another interesting fact is that the population consists primarily of younger people, of which around 50% being under the age of 25. The growing incomes of this segment could lead to rising purchasing power in the future. EIC views that this factor will add diversity and attractiveness to the food and beverage market, especially premium products, as they attract young consumers who focus more on product quality, taste, and benefits rather than prices.



The Middle East is highly dependent on food and beverage imports each year due to low agricultural capacity. Dry weather combined with severely constrained underground water sources and limited agricultural areas are responsible for the region's insufficient food supplies. Thus, more than 50% of the food consumption in the region is being imported. Saudi Arabia's agricultural area accounts for only 2% of its total area, making it the largest food importer. Its food import industry grows on average by 8% per annum, and it is expected that the import value will reach 35,200 million USD by 2020. In addition, the fact that the IMF Food Price Index rocketed to its highest level of 180 in June 2008 and the inflation rate in the Middle East was as high as 9.6% due to rising food prices in the same period indicates that the region's food security was rather low (see figure 2).



Currently, Thailand's food and beverage products has a market share of only around 2% in the Middle East because the region's most consumed commodities (i.e., wheat, barley, and corn) are not Thailand's core agricultural products. However, the food and beverage sector accounts for about 17% of Thailand's total exports to the Middle East (see figure 3), a rate similar to Thailand's global food and beverage exports. Canned and processed seafood are the major export products in this category, with as high as 71% market share in the Middle East, whereas Thai rice has only a 12% market share due to its higher price when compared with competitors like India and Pakistan. However, Thailand's exports to the Middle East have a good tendency to grow continuously as Thai entrepreneurs have increasingly focused on Halal certification, which serves as a passport for entering the region's food and beverage market. The population of the Middle East and North Africa region (MENA) is around 400 million persons, with more than 60% of its total population Muslim, while the GCC itself has a Muslim population as high as 90%. Halal certification, thus, will help Thai entrepreneurs reach 240 million more consumers in the MENA region.



The healthy food and beverage segment has great potential to grow further, especially through modern trade channels. Excessive weight and obesity have contributed greatly to the health issues of populations in the Middle East. Inhabitants have an average Body Mass Index (BMI) of 30 or more, which is much higher than the desirable average of 25. As a result, it is no surprise that functional and healthy products have been gaining popularity in this region. According to Alpen Capital, it is expected that retail trade in the GCC will grow by 5.4% per annum during 2013 - 2016 (see figure 4), in line with a trend toward increasing urbanization. More than half of this trade will be driven by sales of food and beverages through modern trade channels due to the entire society changing and demanding new technologies and more convenient lifestyles. This is also in accordance with the Foreign Direct Investment (FDI) for retail trades in the GCC which grew by 200% during the previous year (see figure 4).



Three steps to succeed in occupying the Middle East market: Right channel, right partner, and right positioning.
Right Channel: The United Arab Emirates (UAE) acts as an entry route to markets in the Middle East. It is worth noting that Dubai is an important gateway, as it is a major port and a regional logistics hub for the Middle East, North Africa, and Eastern Europe. In addition, the UAE has opened and liberalized foreign trade policies. Imported agricultural commodities are tax exempted, except for coconuts and ginger, which are taxed at a rate of 5%. Processed food and other consumer goods are subject to a tax rate of 5%. There is also no value added tax (VAT) nor corporate tax in the UAE. Due to its welcoming trading environment and policy, the UAE has been ranked in the Ease of Doing Business Report 2014 as the 23rd easiest country in which to do business, out of the total 189 country rankings. Theppadungporn Coconut Co., Ltd. is a good example of a successful business using the UAE as a regional gateway and distribution center. The company commenced trading in the UAE in order to expand into the Middle East. Not only did the company gain consumer base from the UAE itself, it was also designated as an original equipment manufacturer (OEM) for trading partners in other countries in the region as well.



Right Partner: Choosing the right local partner. Well begun is half-done. Generally, when establishing a company in the UAE, at least 51% of equity participation must be owned by UAE nationals, except in the Free Zones, where 100% foreign ownership is permitted. Local partners, thus, play important roles as they have in-depth knowledge of local markets and cultures. Their connections also help facilitate business in many ways. Entrepreneurs should aim to obtain a trusted and experienced local partner. Recruiting local partners can be done by participating in Thai Trade Representative visits to the Middle East. These events connect entrepreneurs to business partners in cooperation with the Department of Trade Negotiations. Another way to approach local partners in the UAE is to participate in Gulfood, one of the largest food and beverage exhibitions in the world. Gulfood is a great medium for promoting product awareness, increasing the number of consumers, and making contacting local partners easier for entrepreneurs. For example, Carrefour was introduced to the Middle East by Majid Futtaim Group, Dubai's leading shopping mall, in order to reduce Carrefour's foreignness among local consumers. The right local partner has been proven to be a key driver behind successful joint ventures.



Right Positioning: Differentiate products through higher product positioning than your competitors and create a good reputation and image for Thai products. The UAE's food and beverage segment is highly competitive due to its liberal trade policies. Despite Thailand's better quality products, competitive pricing strategies have proven difficult for Thai entrepreneurs due to higher production and logistics cost. Thai entrepreneurs should therefore aim to place their products at a premium grade level to emphasize their superior quality, in line with their higher prices. In addition, Thailand needs to rebuild its reputation and regain trust from consumers. There were cases of Thai rice exporters mixing other grains in stock labelled 100% jasmine rice, damaging Thailand's rice reputation massively. Thailand's private sector is urged to conduct business honestly to achieve long-term success.
Figure 1: GDP per capita in the GCC was 4.5 times higher than Thailand's, while food expenditure per capita was also 2.4 times higher, making the Middle East a thriving market.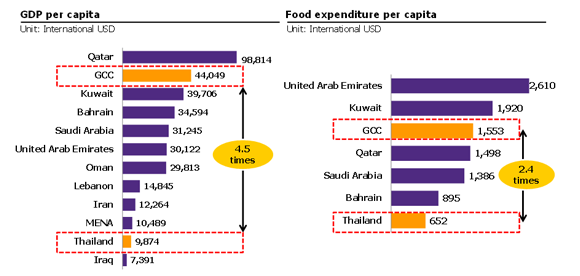 Source: EIC analysis based on data from IMF (WEO Database, October 2013)
Figure 2: Saudi Arabia is the largest food importer in the Middle East. Increasing world food prices have resulted in higher inflation rate in the region.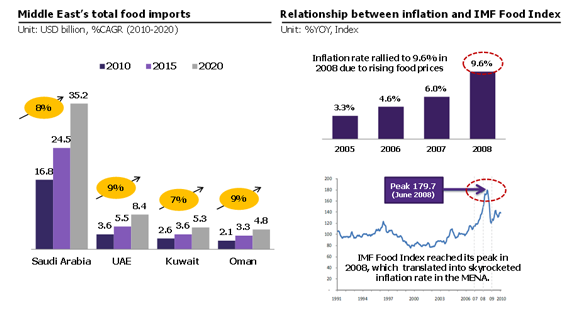 Source: EIC analysis based on data from FAO Statistical Yearbook and Al Masah Capital Research
Figure 3: The food and beverage segment accounts for 17% of Thailand's total exports to the Middle East.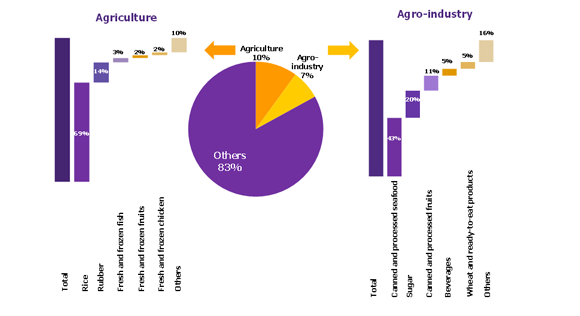 Source: EIC analysis based on data from Ministry of Commerce (MOC)
Figure 4: Total retail sales and FDI in the GCC are growing steadily, reflecting good potential to grow and expand food and beverage business in the region.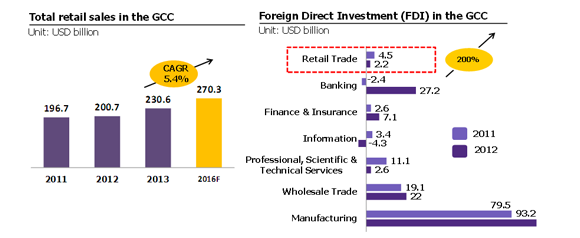 Source: EIC analysis based on data from Alpen Capital and Pew Research Center


Thai entrepreneurs should seek business opportunities by participating in the Gulfood Exhibition Fair, through the support of the Department of International Trade Promotion (DITP). This annual exhibition is held every February in Dubai. Entrepreneurs who wish to participate can submit their applications through the Department of International Trade Promotion. The DITP will nominate exhibitors and process stand enquiries accordingly. There were 143 exhibitors from Thailand participating in Gulfood 2014. The DITP is responsible for all expenses, including stand decoration and logistics, while each exhibitor is subject to a project contribution of 150,000 baht per stand and other additional costs that may occur.
The UAE is the gateway, not the destination. While the population of the MENA region is around 400 million, the UAE is home to only 6 million people. With all the aforesaid advantages in mind, the UAE is not the primary target audience but the most suitable spot for regional logistics hub. However, the GCC is a good target for introducing premium quality products as its GDP per capita and food expenditure per capita are higher than other countries in the region.