The Future of Farming is Moving Indoors
Author: EIC | Economic Intelligence Center
Published in Bangkok Post/Asia In Depth: Asia Focus section, 20 November 2017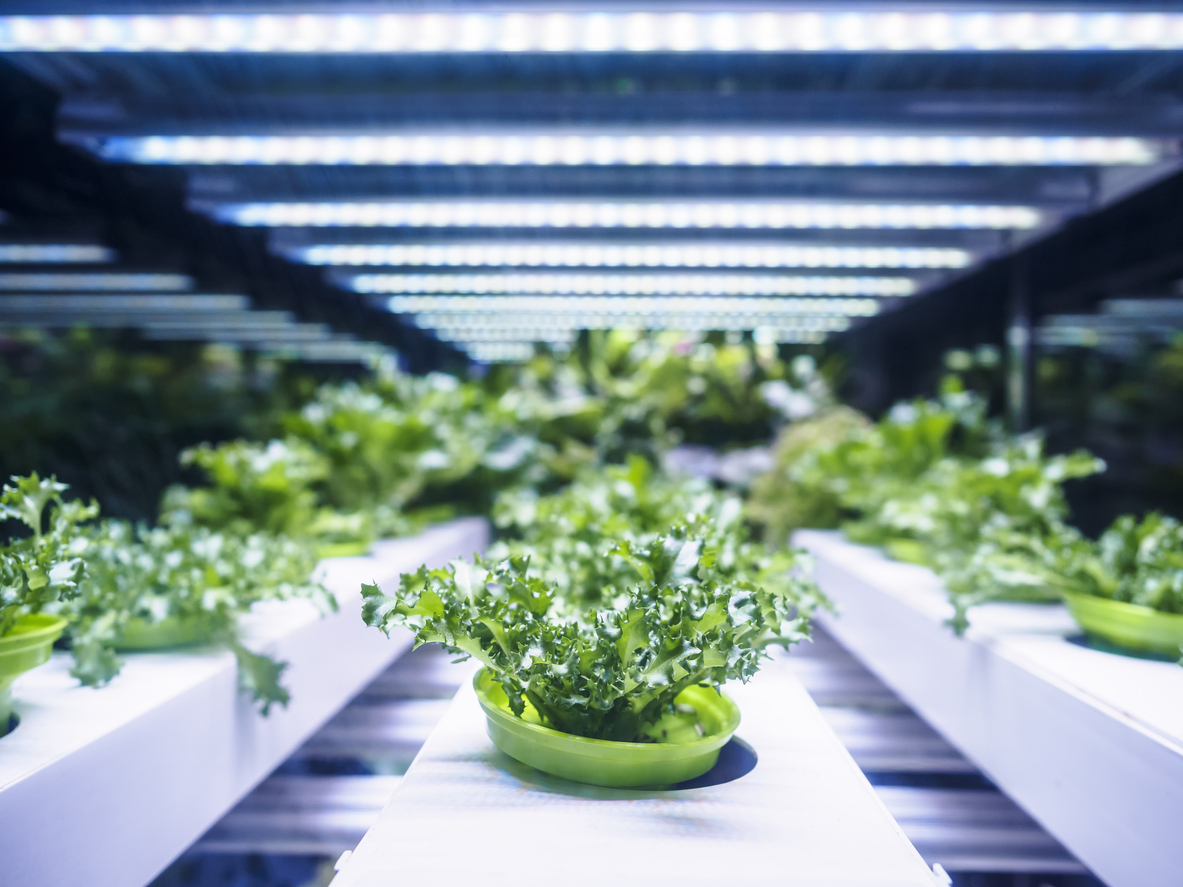 By 2050, the world will have 2 billion more people than today. How to feed them without overwhelming the environment is going to be one of the toughest challenge in the coming decades.
One solution that have emerged is what's called indoor farming. Indoor farming is a practice of growing crops in an enclosed environment where grower have control of parameters such as light, water, nutrients, temperature, and carbon dioxide. Food production would take advantage of techniques such as hydroponics and aeroponics. Hydroponics is a method of growing plants in sterile medium using nutrient rich water. While aeroponics system does away with growing medium altogether by feeding plants with nutrient-laden mist. These methods can use up to 90 percent less water than traditional farming, avoid chemical runoffs, and prevent over fertilization. What's more, proponents say that indoor farming can produce reliable food supply at a much lower footprint as traditional farming is restricted by arable land, soil quality, water availability, and weather conditions.
Indoor farming is gaining popularity worldwide. This is due in part to technological advances that have considerably bring down the cost of an indoor farm as well as the use of sensors, data, and artificial intelligence to control and improve how plants are grown and scale up operations. Studies conducted by the German Space Agency found that in 2016 the economic gap between crops grown using hydroponics with LED lighting and crops grown in German country side was around 3 USD per kilo a 75% drop from over 12 USD per kilo five years ago. The economic gap is expected to continue to drop as technology costs decline. For example, the price of LED light, a critical component of many indoor farms, have come down almost 80% since 2012.
In Japan the number of indoor farms (also known as plant factory) have increased threefold between 2011 and 2016 to roughly 200 factories where most common plants are primarily green leaf lettuce, romaine lettuce, frill lettuce, spinach, basil and arugula. Further drop in price is also expected as growers gain more experience and fine tune their production methods. More indoor farms in Japan are reporting profits or breakeven operation than previous years, according to a 2016 survey conducted by the Japan Greenhouse Horticulture Association. In addition, older farms are more likely to be profitable than newer ones; although this may partly be because their assets have been fully depreciated.
Three consumer driven trends are also helping to drive the growth of indoors agriculture.
First, food safety is a primary concern for many consumers who are wearied of contaminations and chemical residues from pesticide. A testing conducted by Thailand Pesticide Alert Network in 2016 found pesticide over the Maximum Residue Limit in 25% of products with "Organic Thailand" label. As crops are grown indoors, pesticide use is unnecessary for indoor farming. In China, where almost 20% of arable farmland is contaminated and air pollution levels can be as high as 5 times the level the World Health Organization considers safe, many indoor farms have sprung up to serve the affluence urban population who are demanding safe and clean food.
Second, demand for healthier and more nutritious food is also driving demand as indoors grown plants can be altered to specific dietary needs. For example, Fujitsu has converted a semiconductor plant to produce low-potassium lettuce for Japanese consumers with kidney diseases. Manipulating plant growth using indoor farming techniques can potentially produce more nutritious plant. Few researchers have found that tomatoes grown using LED light have been found to have higher vitamin C level than their conventionally grown counterpart.
Lastly, many consumers are becoming more interested in locally grown food as a way to connect with the local community, reduce environmental impacts from transportation, and get fresher food. Several forms of indoor farming such as vertical farm and container farm are designed to be located in urban area so consumers can get access to much fresher produce that can be grown year round. This present a business opportunity for producers in urban low food security markets. For example, Panasonic is currently offering 40 varieties of greens grown from its indoor plant factory in Singapore. For a country that imports more than 90 percent of its food, indoor farming offers a way to increase food security and build local food supply chain.
To be sure, indoor farming is still an emerging industry. Setting up an indoor farm is an expensive undertaking with high capital cost and specific technical know-hows. Construction cost for the structure can vary greatly from a simple greenhouse that relies on sunlight to a multi-story farm with densely stacked rows of crops and artificial lighting. Then there's system cost such as trays, pumps, and lighting as well as sensors and controls. Moreover, indoor farming requires precise application of nutrient and control of parameters such as lighting, water, and temperature. This means that in additional to plants nutrients and growth requirements, growers need to possess knowledge about indoor growing system and equipment.
For would be producers, should consider the economic viability of potential crops including market demand, cost to produce, and market price. In Thailand, demand for hydroponics plants has grown over the years as lettuces such as red oak and green oak become popular with consumers. However, a typical commercial-scale hydroponic system cost well over a million bath for one rai of land not including greenhouse construction. Even assuming an optimistic production yield and healthy market demand the payback period is longer than two years. This means that without a big breakthrough in technology and cost for more high tech indoor farming the high upfront cost and small margin for indoor grown crops will still limit future growth of indoor farming in Thailand.
To be clear, indoors farming should be viewed as a supplement to traditional farming rather than as a replacement. Its role is to augment the food supply chain to create a localized system that is more resilient to adverse weather conditions and better prepared us to meet the demands of a growing urban population.