The Most Powerful Chinese Leader of the "New Era", Xi Jinping Pursues Chinese Dream
Author: Jiramon Sutheerachart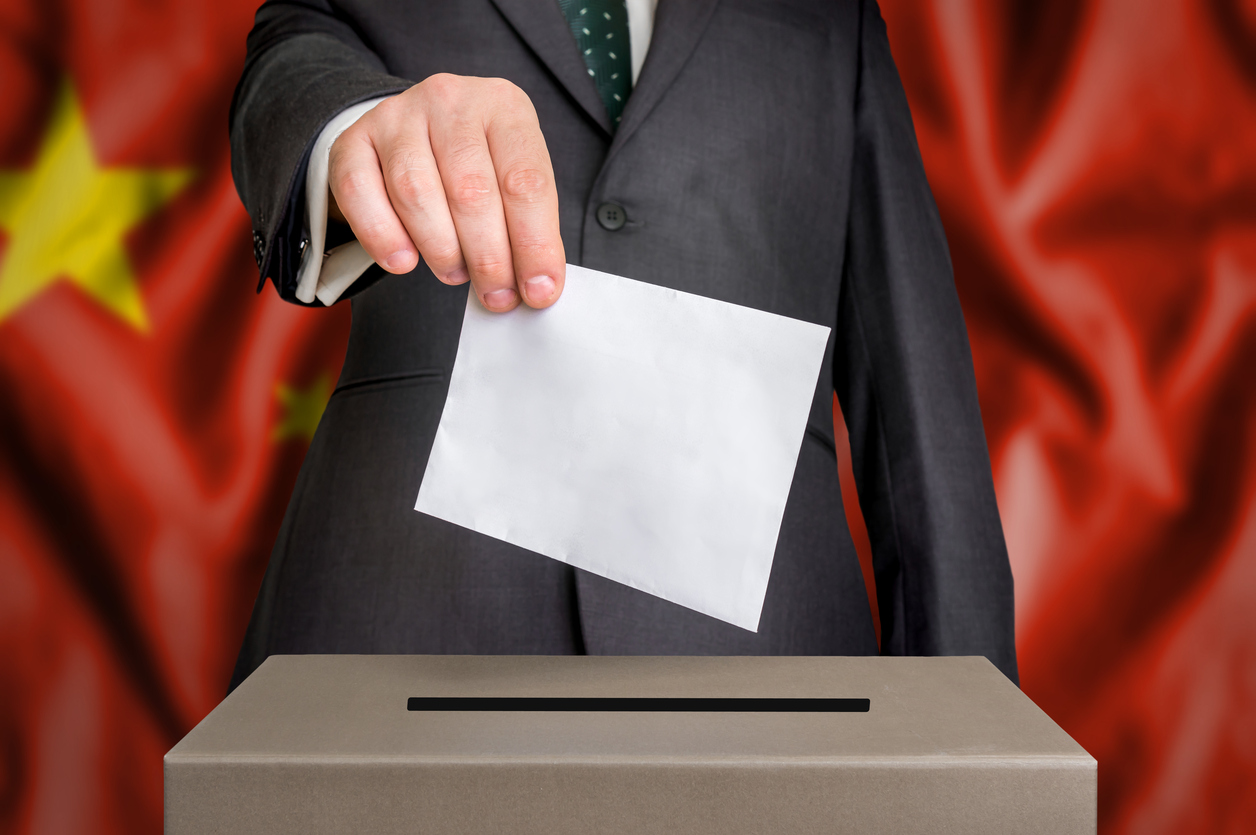 Highlight
A unanimous vote by 19th National Congress delegates firmly endorsed Xi Jinping's second term of presidency, whilst "Xi Jinping Thought" on Socialism with Chinese Characteristics for a New Era, has been enshrined in the party's constitution – a move which consolidates his power and elevates Xi Jinping into his new pantheon as one of the most influential Chinese leaders to date, placing him in the same league as Chairman Mao Tse-tung, founder of the Communist Party
China's economic reform and liberalization of trade, investment and finance will accelerate and intensify over the next five years, directly benefitting the Thai economy and especially the export and tourism sectors.
At the close of the 19th National Congress of the Communist Party of China during October 18-24, Xi Jinping continued the second term of his presidency flanked by another six members of the new Politburo Standing Committee. Aside from Xi Jinping, General Secretary of the Communist Party of China and President of the People's Republic of China and Li Keqiang, Premier of the State Council, there are five other members of the Politburo Standing Committee who are all new to the committee: 1) Li Zhanshu, Director of the General Office of the Communist Party of China and Director of the Office of the National Security Commission, 2) Wang Yang, Vice Premier of the State Council, 3) Wang Huning, a political theorist and Director of the Central Policy Research Office, 4) Zhao Leji, Director of the Central Organization Department and Secretary of the Central Commission for Discipline Inspection and 5) Han Zheng, Party secretary of Shanghai. However, the potential successors of Xi such as Hu Chunhua, Party Secretary of Guangdong, and Chen Min'er, Party Secretary of Chongqing, were not elected to sit on the new Politburo Standing Committee. Therefore, it is expected that Xi Jinping may be preparing for a third term of presidency.
The 14 principles of Xi Jinping thought that have now been enshrined in the party's constitution are a guide for China to achieve a modern, prosperous, and progressive socialist state. Covering both economics and politics, the ideologies include significant economic elements such as a call for "comprehensively deepen reform" with the adoption of "new vision for development," and the policy direction in improving the quality of life of Chinese people and, at the same time, preserving the environment so that humans and nature can coexist in harmony. The ideologies also place importance on the expansion of China's influence on the world stage under the vision to build a community of shared future for mankind. While the political essences of the ideologies concentrate on centralization of power by emphasizing the power of the Communist Party in decision-making, law enforcement and governance and ensuring absolute power of the Party over the People's Army. It also emphasizes the importance of the "One Country, Two Systems" policy, which refers to the mainland China and the special administrative regions of Hong Kong and Macao and the "One China" policy, which cements the relationship between mainland China and Taiwan.
Over the past five years, under the leadership of Xi Jinping, China has entered a "new era," bringing many impressive achievements, in all economic, social or political aspects. Years of rapid economic expansion has raised China's GDP to CNY 80 trillion, contributing to 30% of global economic growth from 2013 to 2016. China's economic structure has shifted toward an innovation-driven era resulting in the emerging digital industry and, along with it, the introduction of numerous technological products such as high-speed rail, delivery drone and electric vehicle. Moreover, China continues to lead all other nations on the foreign trade and investment front, particularly under Belt and Road Initiatives. Even China's measures to elevate the poor has achieved a high level of success, raising over 60 million people out of poverty. The country's poverty rate has now fallen from around 10% to less than 4%, bringing the nation many steps closer to its ultimate goal of ending poverty in China. However, Xi Jinping's most prominent success is probably his wide-reaching crackdown intended to repress corruption, as well as the reorganization of the Communist Party, increasing seats available to his allies. Thus, his power has also steadily risen.
The classification of industrial sectors and designation of investment areas create certainty and raises investor confidence and sets criteria for investment benefits. The MIR 2017 stipulates investment into 3 types, namely, prohibited sectors, restricted sectors, and promoted sectors (Figure 2). It also designates business areas into 3 zones according to the level of development (Figure 3), namely, Zone 1 – least developed region, Zone 2 – moderately developed region, and Zone 3 – developed region. The designation of types of business and development zones serves to identify certain limitations to each business type as well as to offer different investment benefits to promoted businesses in each zone. This will help boost both domestic and foreign investors' confidence when making investment decisions.
Xi Jinping has become the most influential Chinese leader of this era, and it is expected that China's economic and political reform over the next five years will progress very smoothly. In the past five years, Xi Jinping has put so much efforts on eradicating corruption, leading to the management of high domestic debt, which currently stands at 260% of GDP, and the reform of inefficient State Own Enterprises and Zombie companies were not as effective as they should have been. Still, President Xi Jinping's success in the centralization of power, and the establishment of a new Politburo Standing Committee that shares his economic and political ideologies will certainly result in a smoother implementation of economic policy over the next five years. In addition, Adding Xi Jinping's name and his ideology to the Party's constitution while he was alive – sends a clear warning signal that whoever challenges Xi Jinping's decision-making power is considered a threat to the ruling Communist Party.
China moves forward in opening up the country, focusing on "quality growth" and placing emphasis for the first time on rural development, with an ambitious vision to transform China to be a leading global power by 2050. Unlike previous times, Xi Jinping did not mention the economic growth target figures at this National Congress. Instead, his key focus was "quality" development, meaning that the growth rate of China's GDP can be expected to undergo a gradual slowdown in the next phase, in exchange for long-term, sustainable economic growth
China's opening door will be wider, encouraging equal competition. Amendment of trade and investment rules and laws, support the development of private companies and relax market entry measures for businesses and services will promote China's trade and investment liberalization. China has also begun the process of liberalizing its financial sector and foreign exchange system.
Measures have already been taken under the Belt and Road Initiatives, a mega-project to promote openness and cooperation in trade and investment with foreigners. In the initial stage, the project aims to develop both land and sea connections between China and foreign countries. China intends to pursue trade and investment liberalization and provide equal treatment between foreign investors and Chinese citizens. It also emphasizes that the Belt and Road Initiatives will provide benefits for all. If China can successfully push forward a strong international cooperation under the Belt and Road Initiatives, China's influence on the world stage will also become much stronger.
Focus has been turned to high-quality growth in both urban and rural areas to enhance the quality of life for the entire Chinese population. China intends to solve inequality problem and unbalanced development with its rural development strategy. The rural administration will be reformed to meet the standard. Agriculture, an important sector in rural area, will be modernized to increase incomes for rural people. In addition, China has elevated education to first priority, improving the education standard throughout the country and create a more educated workforce. At the same time, China will accelerate the development of public health and basic medical care systems to achieve higher quality and efficiency, keeping up with its growing elderly society. Xi Jinping has laid out the vision for China, envisioning it as a "moderately prosperous socialist" country in all respects by 2020, a "modernized socialist" country by 2035, and a "great modern socialist" country by 2050.
Accelerating the development of innovation under the "Made in China 2025" plan has also taken priority. Since 2015, China has planned to upgrade its entire industrial sector into a high-tech industry by providing the right policies and financial supports, issuance of new laws IP protection, the establishment of institutes of science and technology and the fund for research and technological development. The success of the Made in China 2025 plan has led to China's technological achievements, such as the Tianjin Space Laboratory, the Jiaolong submersible (a deep-sea scuba diving vehicle), China's FAST (the world's largest Aperture Spherical Radio Telescope), and large passenger jet planes, for starters. China has also created world-class technology companies like Baidu, Alibaba and Tencent, which are comparable to the US's Google, eBay, and Facebook. At the same time, these Chinese companies also comply with the central government policies to jointly research the Internet and future technologies. Becoming the world's leading technology innovator is another target that China has set to achieve by 2050
EIC views that Xi Jinping's economic policy in the next phase will continue the successes achieved during his first five years. As Xi Jinping continues in his position as China's president, his second term allows continuity of current ongoing policy implementations with an even more firm and decisive hand. EIC expects the economic reform within the country and the expansion of Chinese influence and interests outside of the country, specifically under Belt and Road Initiatives, to see more tangible and effective results. China is Thailand's No. 1 trading partner, accounting for more than 12% of total exports. China is also the second largest investor in Thailand, accounting for 16% of all direct foreign investments in 2016. The acceleration of China's economic development will strengthen its own domestic economy and increase the purchasing power of the Chinese population, something that Thailand's export sector has already directly benefitted from. This can be seen very clearly from Thailand's exports to China, which grew by 28% in the first three quarters of 2017 – numbers driven by a recovery in the Chinese economy and the rise in demand for Thai goods within China. Concurrently, Thailand can expect its already buoyant tourism industry to kick up even further due to the growing number of Chinese tourists and their steadily rising income which translates into more spending power during trips abroad. Expansion of China's overseas influence through the Belt and Road Initiatives and the liberalization of trade and investment with foreign countries will result in plenty more Chinese investment and fund flowing into the region and Thailand. Especially, when China begins to further accelerate its development of innovation and technology and takes up its position as the world's tech leader in the near future, EIC expects Thailand will also benefit from the indirect transfer of knowledge as China's technological know-how is passed on to Thailand through trade and investment dealings. Moreover, China's financial liberalization is a golden opportunity for Thai investors to achieve greater participation in China's financial sector and take advantage of initiatives such as China's Bond Connect policy, a new mutual market access scheme implemented earlier this year in July 2017.


Figure 1: Structure of the Communist Party of China and 19th Politburo Standing Committee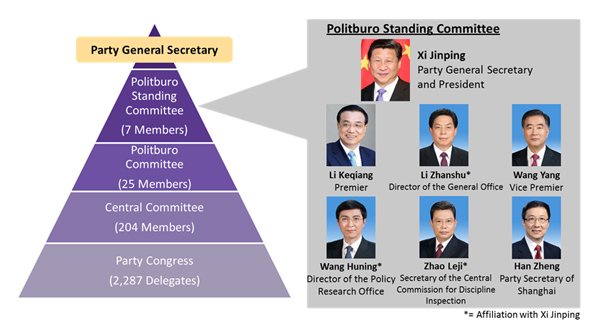 Source: EIC analysis based on data from Goldman Sachs Global Investment Research
Figure 2: Xi Jinping Thought on Socialism with Chinese Characteristics for a New Era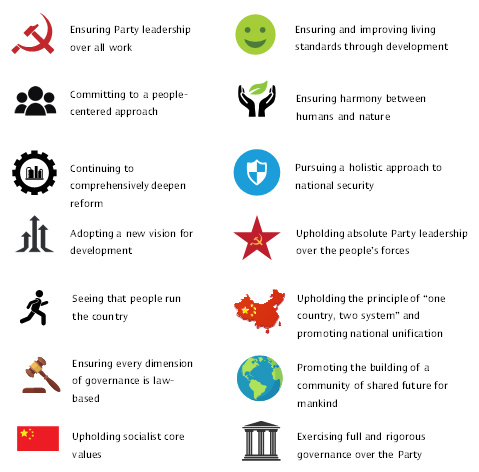 Source: EIC analysis based on data from Chinadaily