Flying High with the Thai Group
Author: Punyapob Tantipidok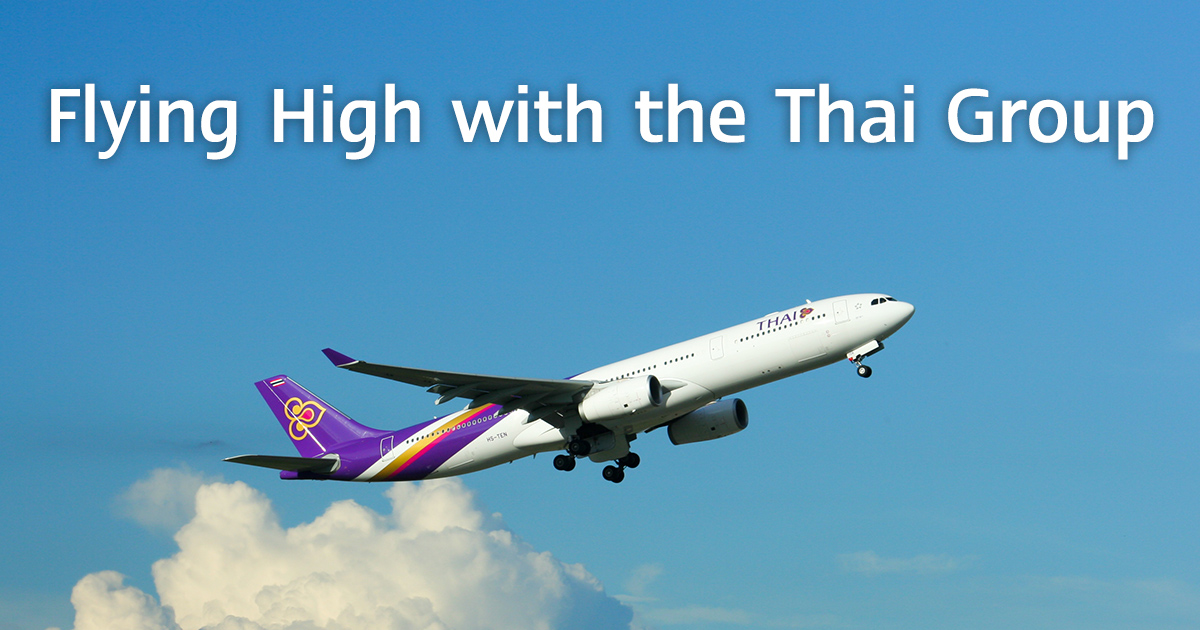 Highlight
The founding of the Thai Group to manage Thai Airways, Thai Smile Airways, and Nok Air is another step in the national carrier's move towards comprehensive services, ranging from full-service, low-cost, and hybrid carriers, in line with global trends.

EIC sees many upsides, as the group should be able to maintain and expand its market share, penetrate new markets, and reduce management inefficiency. This change will also strengthen in competing with rivals and new players, managing airline within airline (AWA).
Thai Airways's move to establish the Thai Group is intended to firm up its position in the increasingly competitive aviation industry. Thai Airways is taking on the role of the group's full-service carrier, providing medium-to-long haul flights in Asia and between continents. Thai Smile Airways has been positioned as the group's regional airline, offering premium economy service on medium-to-short haul flights covering domestic, CLMV, and Asia routes, while Nok Air provides low-cost options for short-haul flights covering domestic and CLMV routes (Figure 1). The Thai Group will be able to provide comprehensive services for every passenger segment using the combined forces of the three airlines.
Thai's decision is in line with global aviation industry trends, where airlines are increasingly combining full-service and low-cost options to become hybrid carriers. Consumer behavior indicates that passengers are willing to pay more in exchange for convenience and shorter travel times. Low-cost carriers have also been competing aggressively on price. As a result, many carriers are now looking to provide customers with more options, leading to the hybrid model. Hybrid carriers can result from the expansion of services by full-service airlines, such as Aer Lingus (Ireland) and British Airways (UK), while some low-cost carriers have scaled up to become hybrids, such as JetBlue Mint (US), Vueling (Spain), and Norwegian Air Shuttle (Norway). EIC expects more low-cost carriers to become hybrids in the future.
The case of Qantas shows that a full-service airline's expansion into the low-cost market can help the airline maintain and expand market share, as well as increase its growth potential. In the past, the growth of low-cost carriers covering full-service routes cut into the latter's market share. Full-service carriers responded by setting up their own low-cost airlines, such as the launch of Jetstar Airways by Qantas, with the aim of winning back market share from low-cost carrier Virgin Australia. Qantas went for a dual-brand strategy, with both it and Jetstar operating similarly on highly competitive routes. Qantas was able to win back and increase its market share from 49% to 60% within one year (Figure 2). This successful strategy also allowed Qantas to charge more for its tickets than its competitors thanks to its quality service riding on the frequency of flights, which helped reduce delays. Moreover, in the case of flight cancelation, passengers can easily be re-booked on another flight operated by the group. Looking at the group's revenue, it is clear that Jetstar played a key role in maintaining Qantas's revenue stream.
EIC expects the founding of the Thai Group to be beneficial both in terms of revenue and operation. Together Nok Air and Thai Smile will help maintain and expand the group's market share, ensuring long-term growth, similar to the Qantas-Jetstar case. The Thai Group will also be able to operate new routes, drawing on connections between each airline's existing network. Shared reward schemes will drive up the number of new passengers, as well as customers' brand loyalty. Joining forces in competing, the group will also be able to reduce inefficiency due to overlapping management and operations and may even be able to raise ticket prices thanks to differentiation, resulting in high and stable growth. Lastly, the Thai Group will have more sales channels at its disposal, will benefit from economies of scale, and can cut management costs, including personnel.
Despite the benefits to be gained, the Thai Group will face several challenges, both in terms of competition and management. These include 1. Challenges stemming from new services by low-cost carriers, such as long-haul routes and business class. 2. Challenges stemming from the need to manage airlines within airlines (AWA), not only when competing with stand-alone carriers, but also in terms of coordination between group airlines, as well as with other carriers that the group may hold a stake in, all in order to ensure good growth across the board and prevent cannibalization. 3. Challenges stemming from fuel price volatility affecting operating cost.
Thai Smile holds the key to the Thai Group's success in maintaining and expanding its market share. Thai Smile will have to coordinate with Nok Air in the domestic market and with Thai Airways in the international market. Its strategy will have to align with those of the other two in order to keep and expand the group's market share. In addition, Thai Smile will have to open up a new market of consumers who prefer hybrid carriers or secondary routes in order to cover its operating costs.


Regional airports need to be modernized and expanded, becoming international airports, in order to keep up with point-to-point transit. Low-cost and hybrid carriers rely heavily on point-to-point transit, rather than going through a hub. Their growth has led to airports' reaching capacity limits, which negatively impacts the tourism industry, as well as the aviation industry's ability to comply with safety standards.


Ground transport between Suvarnabhumi and Don Mueang airports will have to be improved, since the group's airlines operate from different airports. Although there is a bus line connecting the two airports, the service frequency and number of busses in operation will have to be increased in order to accommodate more passengers. The construction of the Airport Rail Link between Suvarnabhumi and Don Mueang is another good option, as it will ensure convenience and safety for passengers and help them avoid traffic delays.
Figure 1: Thai Group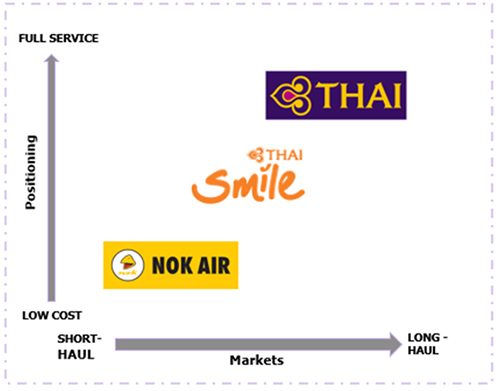 Source: EIC analysis
Figure 2: Market share of Australian airline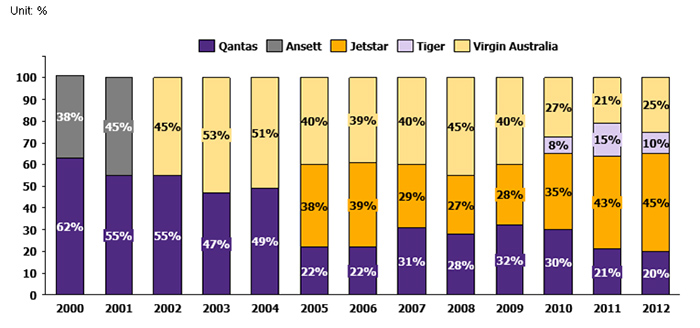 Source: EIC analysis based on data from Klophaus et al. (2012)
Figure 3: Qantas Group's revenue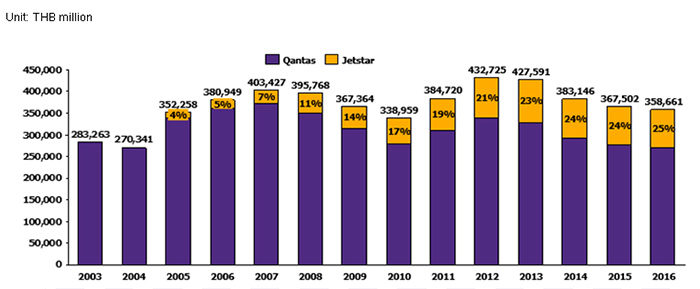 Source: EIC analysis based on data from Bloomberg