Food Tech, a new engine driving growth in the food industry
Author: Pakanun Poolvoralaks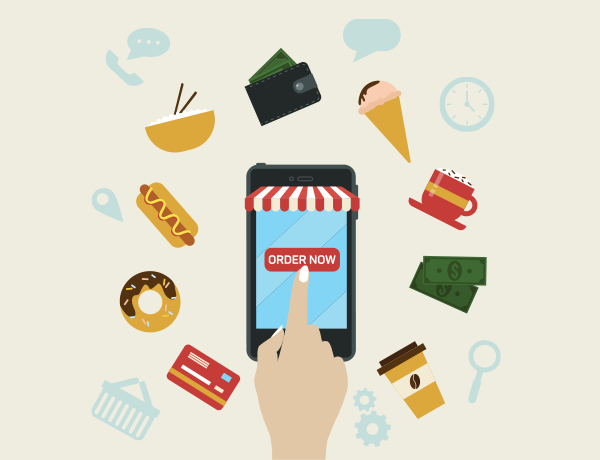 Highlight
Food Tech startups are attractive as they meet consumer's unmet needs through technological advancement and enhanced distribution efficiency. Investment will continue to flow into the food tech industry, but EIC sees traditional restaurants/retailers likely co-existing with online stores and the online marketplace gaining market share over time.



A lot of Food Tech players have entered and exited the market in less than a year due to a variety of reasons, such as limited access to market insight or underfunding. Creativity, in-depth market study, timing of introduction, and sufficient funding are all vital for startups in order for them to survive in a competitive environment.
Emerging technology is now disrupting the way local food is produced, sourced, distributed, and consumed, paving the way for new business ideas and growth opportunities. Global Food Tech funding increased by 107 percent last year. Food startups in an on-demand economy have a simple psychological appeal-they promise to buy time and save effort by using technology as a tool for utilizing resources. There are various types of food startups, with some forms having been around for a long time, such as information knowledge models like cooking communities and restaurant reviews and research like Yelp and UrbanSpoon. Other forms which more directly connect with consumers are food coupon distributors like Savored or loyalty based websites and restaurant reservation websites such as OpenTable. The latest food startup model involves delivering raw material directly from farms, sending ready-to-cook ingredients, and exclusive meals made by professional chefs. Billion dollar tech firms such as Amazon, UberEat, and Google have seen the opportunities and have stepped into the food tech industry. This implies that the food delivery battle is intensifying. With the growing opportunity, much more investment will flow to the food startup space, particularly in organic-related products.



Food Tech startups are competing mostly on delivery offering products ranging from organic groceries to cooked meals. The simplest type of delivery services are food ordering applications such as Grubhub, a pure software operator that encourages the use of mobile and web platforms for ordering food (mainly takeaway) in place of antiquated phone-ordering systems. The other type of food delivery is the restaurant market place model, such as Food panda and Deliveroo, which act as intermediaries connecting eateries that do not provide delivery service. They bring extra traffic and orders to restaurants and manage delivery through their fleet of independent couriers connected by an Uber-like mobile app. Online food ordering enables restaurants with no online IT infrastructure to reach out to more customers, providing more convenience and growth.



Food Tech not only brings the delivery convenience value preposition to homes, but also allows new products to more easily enter the marketplace. The most popular models in 2015 are prepared groceries and meal delivery. One product that interests those following a health and wellness lifestyle is detox juice. Boston juice cleanse is one of the many operators offering a variety of cold-pressed fruit and vegetable juices containing different nutrients. Another popular model is prepared grocery delivery as offered by companies such as Blue Apron and Plated. Customers simply choose the menu items they want to cook, indicate the number of servings, and then these operators will deliver the pre-prepared raw materials ready to be cooked. There are also meal delivery startups (or fast food 2.0) such as Sprig and Spoonrocket which opted for a fully integrated process. They developed their own apps through which consumers can order a limited range of menus created by professional chefs, reheated in their own fleet of cars as orders come in (saving on kitchen preparation time), and delivered in 15 minutes. Currently, the model that's catching the healthy food wave is farm-to-table delivery service. Providers simply act as middleman and connect farmers to consumers to buy/sell organic products. While organic food is already offered at specialty stores such as Whole Food, Traders Joes, and farmer's markets, e-commerce businesses such as Urban Organic, Spud, and Boxed Green offer a wider selection of farm products, provide more convenience, indicate product origin, and guarantee product quality. These are new business models, which could slowly but increasingly replace traditional grocery markets.



Some Food Tech startups are very successful. They share the same principles through creating compelling customer value prepositions, entering the market at the right time, and being financially flexible. To succeed in the food startup space startups must be able to address consumer pain points and find solutions to help alleviate those issues. For example, a mother loves cooking very much but it takes so much time to find all the ingredients. Blue Apron relieves the pain by introducing prepared grocery delivery packages. Furthermore, to enter the market, timing is very important. If a startup comes up with a brilliant idea but people are not yet familiar with the technology there will be a risk of business failure. Last is financial flexibility. Companies must make sure that they have adequate funding. It takes a while for a newbie startup to gain a customer base and there are expenses in running a business every month, so companies must secure enough funding to cover their growth period.



Food Tech is not for everyone. A lot of food tech companies have left the market in the last few years, unable to benefit from the funding flowing into the segment. Pop-Up Pantry and Chefler are two examples of startups that failed in the food tech space. Despite the fact that many startups came up with brilliant products and services, the businesses were not sustainable. Chefler's failure was a consequence of an easy-to-compete business model combined with insufficient funding. It was the very first startup offering premium prepared fresh meals in San Francisco in 2013, but left the market within a year despite running a successful marketing campaign and receiving a 5-star Yelp rating. Nevertheless, the competition started heating up when other startups such as Spoonrocket moved into this market while charging just half of Chefler's prices. Chefler soon had to exit the market because they could not compete on price. In addition, a lot of Food Techs made mistakes due to poor financial flexibility and inappropriate scales of operation. PUP offered a quality three-course meal delivery menu crafted by top chefs but in less than a year the company shut down due to over-rapid nationwide expansion while it still had a small customer base. Shipping costs ate up PUP's entire margin.



EIC believes that traditional and online food operators will co-exist despite significant growth in Food Tech. The segment's future, which has been validated by the success of Blue Apron, Fresh Direct and others, is entirely online. Whether buying cooked food, ingredients, or recipes, people will rely less and less on raw food materials, restaurants, and frozen food and more and more on online delivery. Still, Food Tech startup won't totally disrupt traditional food stores, restaurants, or supermarkets. Instead they will evolve over time and for the moment, traditional and online food stores will co-exist. As the number of copy-cat Food Tech delivery services is increasing rapidly, companies need to rethink their true value and the strategies to differentiate themselves from competitors and grow sustainably.



Thailand is in the early stage of food startups using social media as a way to connect to consumers. If the internet, online payment, and logistical infrastructure can be developed further there will be many more food startups operating in a more technological-oriented way. Thai startups mainly use social media such as Instagram and Facebook to introduce their products and connect to consumers. The main food products they sell on social media are pastries, homemade cakes, cookies, and food delivery (featuring low calorie items). Most of the time those operators use chat applications such as LINE and Whatsapp to communicate with customers and make payment either via traditional bank transfer or online banking. The Food Tech industry in Thailand will have much more room to grow if smartphone ownership grows, online payment becomes more widely available, cyber security is effectively addressed, and the logistical infrastructure becomes more developed. If these four factors are met, there will be many more food tech startups operating in this space.
There are opportunities for Thai entrepreneurs to develop Food Tech business via online channels. Thais lifestyles have become similar to those in western countries and Thailand is now in in a transition period where people can leverage technology and food to create new businesses through online channels. People tend to spend less time on cooking activities as more people live in cities and family sizes are smaller compared to the past. Food delivery, such as delivering grocery ingredients, cooked meals, or ordering food from local restaurants has become an attractive category. People are beginning to shift to those services rather than spend their time going to supermarkets. As Thailand has a lot of street food, Food Tech startups must find value propositions to successfully lure customers by offering some value added types of food that are not widely available.



Opportunities will arise for providers of logistics and financial services. Though Food Tech covers an array of different offerings, the trend relates to convenience. This is an opportunity for logistics companies due to the increased need for delivery services. In Thailand, logistics companies should prepare for the upcoming huge change. To be able to compete in the market, logistic companies should meet three factors: economies of scale, wide coverage network, and standardized service quality. Financial providers will also see opportunities because when there are lots of startups in the market space online payment is often an important part of running an online business. In order to appeal to online financial services, platforms must be easy to use, reliable, and secure. Financial institutions need to set up various security processes to reduce the risk of unauthorized online access to customer records as well as guarantee satisfactory delivery of products or services.



Food Tech intervenes in the supply chain as it acts as a middlemen and makes better offers to farmers. Food retails need to be aware of such intervention. Food Tech startups could potentially raise shares from retailers quietly, in particular providers of perishable food such as vegetables, fruits, and mushrooms. They act as distributors for products from farmers and offer better returns to farmers than retailers do. At the same time, they position themselves in delivering products from the original sources to customers. Food Tech businesses are operating a supply chain to move products. They are using technology to build a more efficient supply chain that, in the near future, will allow them to scale up with growth and ultimately compete with incumbents.
Figure 1: Venn diagram for online meals with 3 steps: order, cook, and delivery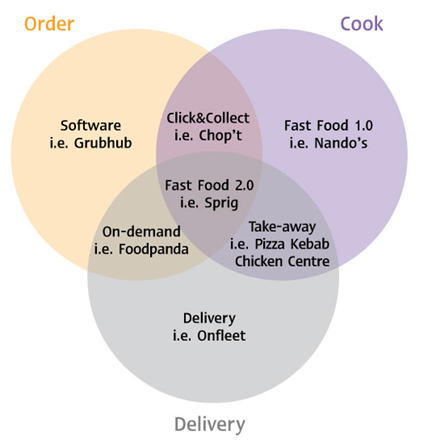 Source: EIC analysis based on data from Techcrush
Figure 2: Global Food Tech funding in 2014 and 2015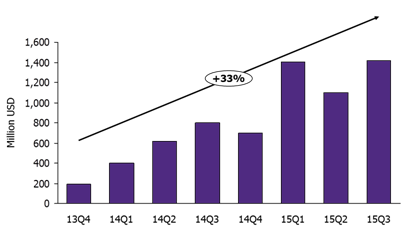 Source: EIC analysis based on data from CB Insights
Figure 3: Total funding of some leading food delivery companies in 2015
Source: EIC analysis based on data from CB Insights
Figure 4: Number of Food Tech deals, i.e. funding, mergers, acquisitions, and exits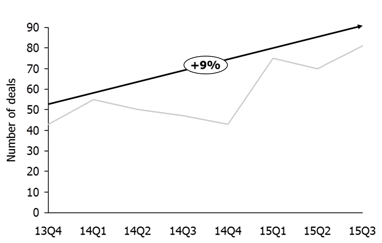 Source: EIC analysis based on data from CB Insights