Drought, a worrying situation for Thai agriculture.
Author: Teerayut Thaiturapaisan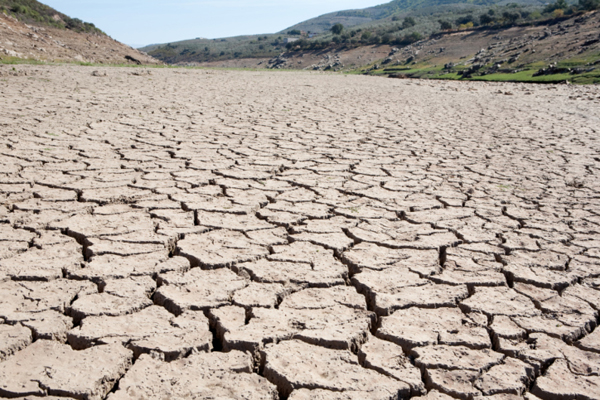 Highlight

The current drought, occurring in the middle of the rainy season, is an off-season drought. The water shortage crisis stems from the low level of water in reservoirs and a dry rainy season, which is an effect of El Nino. Major Rice fields have been severely damaged by the drought. If there is less rainfall than predicted in August and September, billions of baht in rice field damage will send Thai economic growth down by 0.4%. Yet El Nino is a global phenomenon and global rice prices may increase only slightly as a result of a widespread fall in the rice supply.
The drought is a result of the low level of water in reservoirs and the El Nino climatic phenomenon. According to data from the Department of Disaster Prevention and Mitigation, as of June 25, 2015 twenty provinces in Thailand are experiencing drought—mostly the North and Northeastern provinces which include Nakhonsawan, Phitsanulok, Uttaradit, Tak, Nan, Lopburi, Nakhonratchasima, Khonkaen, Chaiyaphum, Sakonnakhon, Amnatchareon, Surin, etc. This drought—occurring in the middle of the rainy season from mid June to July—is considered an off-season drought and a result of global climate change. Average rainfall in Thailand is 46% lower than normal and water levels are at 45% of Thailand's reservoir capacity.



Provinces near the Chaophraya-Thajeen river basin have been most severely struck by the drought. Even though water levels in the Chaophraya-Thajeen reservoirs— including Bhumiphol, Sirikit, Kwaenoi Bumrungdane, Pasakcholasith dams—are at 7.7 billion cubic meters, only 2% lower than last year, usable water remaining is only 4% of capacity. If water is distributed at 31 to 33 cubic meters per day as it was previously, water supplies will last only 32 days (Figure 1). In order to stretch the water supply to last into early August, the Royal Irrigation Department cut daily water supply by 25%, equivalent to a cut of 5 million cubic meters per day for farmers.



Rain-fed rice plantations that are currently in season are now suffering the most from the drought (figure 2). According to the Department of Agriculture, 7 million rais of major rice fields are located in the Choaphraya-Thajeen river basin, where half of farmers have already started in-season planting. The government has asked farmers who have not begun planting to delay their planting to early August in order to cut down losses as more rainfall is expected in August and September. However, it is estimated that the water supply cut will damage 860 thousand rais of rice that has already been planted, accounting for 1.5% of Thailand's rice production and valued at 3.8 billion baht. However, EIC does not see significant impact on rice exports as the government has a high level of rice stock in hand.



The government issued three immediate measures to fight the drought: 1) Delaying major rice planting to August and September, 2) Encouraging farmers to grow less water-intensive crops instead of rain-fed rice, and 3) Teaming up with the Bank of Agriculture (BAAC) to finance farmers who need to grow alternative crops. Moreover, the government has approved 84 million baht to drill 500 wells in the Chaophraya-Thajeen area which will help relieve about 100 to 130 thousand rai of already planted rice fields and curb damage by 3.4 billion baht. The current measures are, however, short-term solutions. For long-term solutions the government should help farmers adapt sustainably to drought since Thailand has been facing a drought problem every year. For example, the government should develop plans to educate farmers about growing crops that are suitable for the regional climate as well manage water resources systematically and sustainably.



The possibility that rainfall will be delayed from arriving as predicted is a major concern. If that is the case, not only will major rice be put off, but other crops such as second rice, sugar cane, and cassava will also be affected. According to information from the Thai Meteorological Department on June 15, 2015, there is more than a 90% chance that El Nino will last throughout 2015, and an 85% chance that it will last until the winter of 2016. If rainfall is indeed further delayed, insufficient precipitation will also damage other crops in addition to rain-fed rice. This includes second rice, which is usually cultivated at the end of the year, as well as sugar cane and cassava, which are already planted and may suffer a decline in yields. The impending drought could be similar to the one in 2005, the worst in 10 years (Figure 3), when rainfall remained below average until the end of the year. Given the Office of Agricultural Economics' estimation that production in 2005 suffered approximately 16 billion baht in losses, EIC predicts that 2015 could see even greater damage.



If rainfall continues to be delayed, major rice plantations in the Chaophraya-Thajeen river basin and in the Northeast will be particularly sensitive to a delayed wet-season. An additional 3.45 million rai of delayed major rice cultivation may suffer if rainfall does not come as predicted. This will lead to 16.5 billion baht in losses for farmers. Moreover, as much as 75% of rain-fed rice fields in the Northeast are outside of irrigation zones, and for most of them cultivation has already begun. Currently, the value of major rice production in the Northeast outside of irrigation zones is estimated at 90 billion baht, or around 8.6 million tons (roughly one-third of Thailand's total rice production). Overall economic growth will therefore be stunted if all production in the region is affected by the drought.



EIC predicts that Thailand's major competitors for agricultural products will also be affected by El Nino, which will send prices of agricultural commodities slightly upward. El Nino not only impacts Thailand, but also countries across the globe (Figure 4), including major exporters of agricultural products such as India (rice), the Philippines (rice), Australia (sugar cane), and Brazil (sugar cane). As production in these countries falls, lower supply will boost the price of agricultural commodities in the global market. Nevertheless, for Thailand, since we still have an ample of rice stocks, a declining supply may only marginally impact price.
Thai Economic growth will edge down following any fall in agriculture production. The decline in major rice production means lower incomes not only for rice farmers but also for other stakeholders in the supply chain, i.e., suppliers of fertilizers, herbicides, and other agricultural supplies. Losses, however, will be limited if rainfall arrives as predicted. In that case it is estimated that only 1-2% of rain-fed rice will be damaged. On the other hand, if rainfall is further delayed, agricultural production will be heavily hit. Particularly, over 30% of major rice production will suffer, leading to an up to 0.4% fall in economic growth this year.
Agriculture-related business should always be prepared for possible worsened conditions. Prices of certain crops such as rice may increase as domestic production declines. Thus, businesses down the supply chain will face higher production costs and lower profitability if they cannot raise their prices accordingly. Therefore, they are advised to cut costs, enhance efficiency, reduce input loss during production, or seek cheaper raw materials from the neighboring countries. Moreover, businesses will benefit from efficient inventory management, as it will allow businesses to take in more profits whenever conditions turn favorable
Figure 1: Reservoir water levels across Thailand in comparison to the same period in 2014.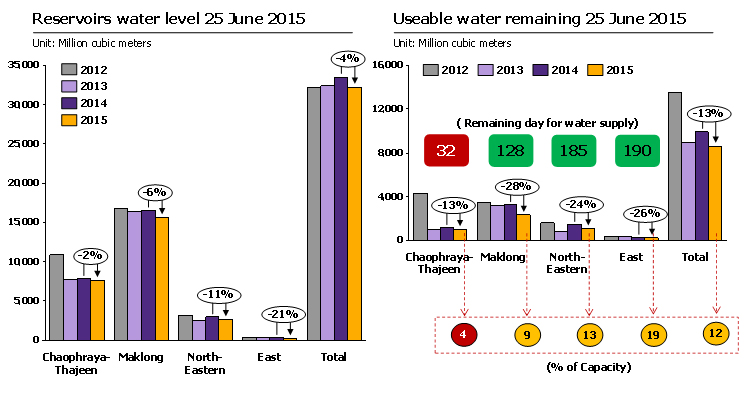 Source: EIC analysis based on data from the Royal Irrigation Department


Figure 2 : Plantation and cultivation timeline for crops and different impact levels of the drought.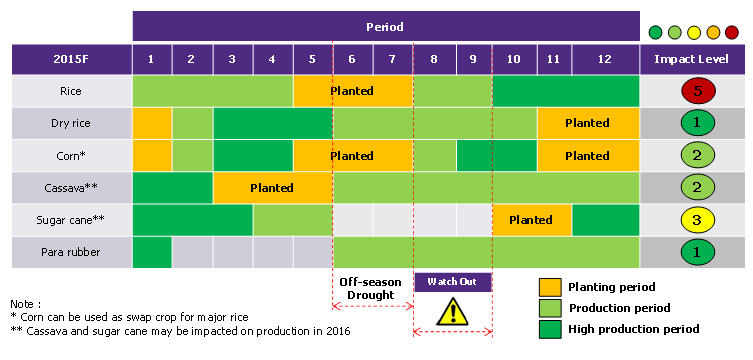 Source: EIC analysis based on data from the Office of Agricultural Economics.


Figure 3: Statistics on damaged agricultural areas due to drought from 1997 to 2010.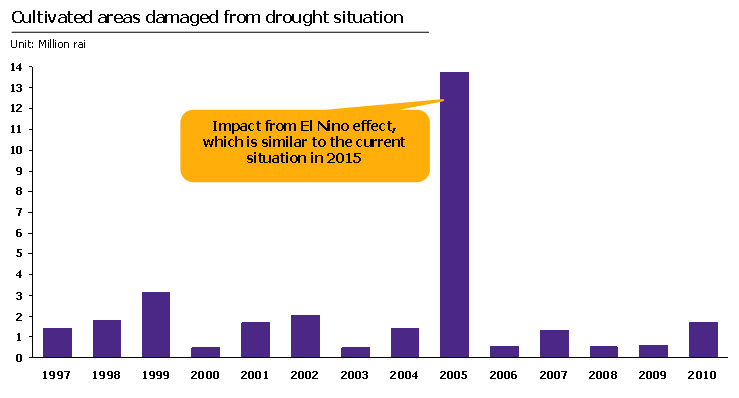 Source: EIC analysis based on data from the Department of Disaster Prevention and Mitigation.



Figure 4: The ongoing impacts of the El Nino phenomenon across the globe.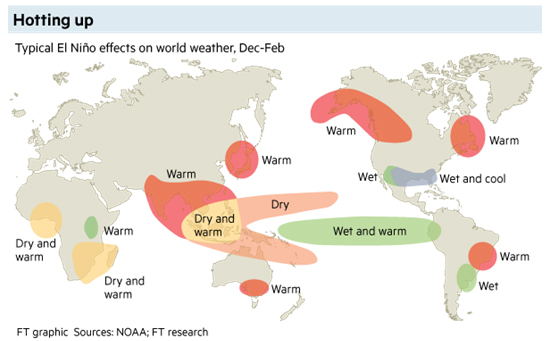 Source: EIC analysis based on data from Financial Time Research.